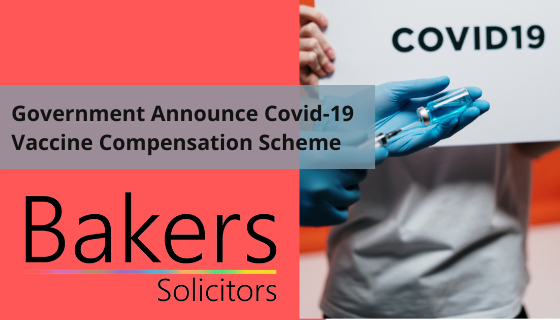 Government Announce Covid-19 Vaccine Compensation Scheme
Following the recent and rapid availability of Covid-19 coronavirus vaccines in the UK, the Government has announced that it has taken precautionary steps in advance of a full rollout programme to ensure that, in the unlikely event of someone becoming severely disabled as a result of being vaccinated, financial assistance and compensation will be made available.
With the Oxford/Astra Zeneca vaccine now following Pfizer/BioNTech in gaining UK regulatory approval, so far there have been no reported safety concerns with either drug. This is despite the vaccines being developed in record time and being subject to rigorous analysis and testing through clinical trials involving many thousands of people. However, the Medicines and Healthcare products Regulatory Agency ('MHRA') will be closely monitoring the vaccine rollout programmes and should an individual be extremely unfortunate in becoming disabled as a result, then compensation will be available via the existing Vaccine Damages Payments Scheme ('VDPS').
Compensation and Negligence
Originally established in 1979, the VDPS was created as a statutory programme to provide payments to individuals who have become severely disabled as a result of being vaccinated against a range of specific diseases. The payments available from the VDPS are different from compensation payments received as a result of a private personal injury claim in that proof of negligence is not required in order to qualify for financial assistance. The VDPS provides a one-off, tax free payment for individuals suffering a severe disability as a result of receiving a vaccine that is covered under the scheme. This payment is currently set at £120,000 but may be reviewed in the near future.
Over the past 40 years, various diseases have been added to the VDPS as vaccines become commonly available for different diseases and health threats, including Meningitis B, HPV and H1N1 (Swine Flu). One significant change to the scheme is that rather than mainly covering vaccines that were administered as a part of a childhood immunisation programme, Covid-19 vaccines for the wider adult population will now be included. The other vaccines included in the scheme that also cover the adult population are meningococcal group C, rubella, HPV and polio.
In commenting on the changes and the forthcoming UK-wide immunisation programmes, Deputy Chief Medical Officer for England Professor Jonathan Van-Tam said:
"We are extremely confident in the effectiveness and safety of our immunisation programmes. We will not be rolling out a COVID-19 vaccine unless it has met robust standards of safety, effectiveness and quality and authorised for use by the medicines regulator, the MHRA…The UK has one of the most comprehensive immunisation programmes in the world, and sensible routine precautions such as these form a huge part of our global-leading standards in safety."
Compensation Claims Advice from Bakers
At Bakers we pride ourselves on our experience and success in representing claimants who have been injured through no fault of their own, helping them to receive compensation that they are properly entitled to. Our professional, friendly team will give you an honest, free and 'plain English' appraisal of your claim and we love to delight our clients when they receive the injury compensation they deserve.
If you would like us to handle your personal injury compensation claim, you can contact us online or by phone on 01252 744600